Donations
Make a donation to the Verona Fire Department and help us to continue helping our community!
more info »
Contact Info
Emergency Dial 9.1.1
101 Lincoln Street
Verona, WI 53593
Telephone: (608) 845-9401
Office Hours: Mon-Fri 8am-4pm
Members Login
Recruitment
Thank you for your interest in becoming part of the Verona Fire Department. This is a decision that should not be taken lightly and should be discussed with your family. Being a Paid-On-Call Firefighter requires much of your time for training and responding to calls, but there is nothing you can do with your time that will be more rewarding than helping those when they are in need. Becoming a member will require a serious commitment, determination, and dedication, as this is a very important service that we provide in a professional manner.

We are always accepting applications for Paid-On-Call Firefighters and we are very dependent on these members to ensure that we are able to meet our mission of protecting the community. On this page you will find our membership requirements, benefits, and application. If you have any questions please contact us at 608-845-9401.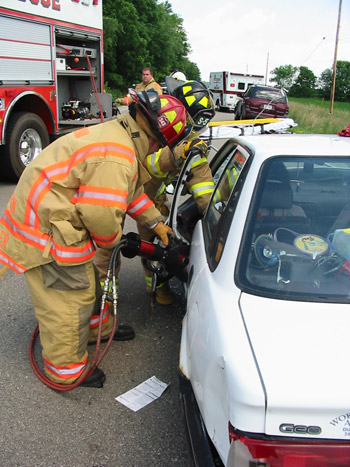 Minimum requirements to become a Verona Firefighter
18 years of age
Valid Wisconsin driver's license
High school diploma or equivalent
Live within the geographical boundaries surrounding the City and Town of Verona as established by the Verona Police and Fire Commission
Successful completion of Department provided Entry Level Firefighter and Certified Firefighter I courses within 18 months
Hiring Process
Complete and submit an application
Interview
Subject to a criminal background check
Pass medical exam
Class Requirements
Entry Level Firefighter: 60 hours, a prerequisite for Firefighter I
Certified Firefighter I: 36 hours
Haz-Mat Operations: 24 hours, required before Firefighter I State Certified Testing
All classes meet one night a week and an occasional Saturday. Classes are provided through the local technical college.
Other more advanced classes are available and we encourage our members to take advantage of educational opportunities but the above are the minimum required classes.
Attendance Requirements
Attendance to Training: Paid-On-Call Firefighters must attend 60% of Monday night trainings. Training is held every Monday from 7:00 p.m. – 9:00 p.m. with the first Monday night being a Business Meeting that does not count for training attendance.
Attendance to Calls: Paid-On-Call Firefighters must make 25% of all multi-unit calls for service during the hours of 6:00 p.m. – 6:00 a.m. every day of the week.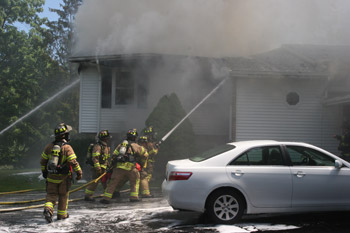 What We Provide
Protective Equipment
Classes/Seminars/Trainings
Challenges
Excitement
Opportunities
Teamwork
Experience
Possibilities
With the certifications, training, and experience that you can gain as a Paid-On-Call Firefighter it is possible to turn all of that into a full-time career with a career fire department.

CERTIFIED FIREFIGTHERS FROM OTHER STATES RELOCATING TO OUR AREA
If you are currently a Certified Firefighter from another State and you have relocated to the Verona area and are interested in joining our Department please contact the Fire Chief for information on obtaining Wisconsin Certifications.
TO APPLY:
Please visit the City of Verona website for current Job Opportunities at: https://www.governmentjobs.com/careers/veronawi
Downloads: